Do you need support !
Mobile:
90474 46656, 90472 26656
Address: 2/5,Ramasamy Layout,
1st Street, Ellaithottam Road,
Opp VOC Colony, Peelamedu,
Coimbatore - 641004.
Mail:
info@omrtec.com
EXAM CELL AUTOMATION SOFTWARE
Exam cell Automation system is one of the best selling product of OMR Technologies. Exam Cell Automation Software is developed for the college to simplify examination hall allotment and seating arrangement. It facilitates to access the examination information of a particular student in a particular class. The purpose of developing exam hall seating arrangement system is to computerize the traditional way of conducting exams. Currently Exam cell activity mostly includes a lot of manual calculations and is mostly paper based
Exam cell automation software aims to bring in a centralized system that will ensure the activities in the context of an examination that can be effectively managed. It is a Web and Android application which can be used by students and Exam Cell Co-ordinator using their smart phones or PCs. This system allows students to enroll themselves into the system by registering their names or by sharing details to admin. This is done by providing their personal and all the necessary details like Name, email, examination, semester, etc. The provided details are then entered by admin into the system to create their hall tickets and also creates login id and password for them. After creating the hall ticket, the system mails the link of soft copy to every student who have registered. Students containing link in the mail can view and print the hall ticket and also can login into the system using login id and password to modify or update their details like Phone number, email-id, etc. It has a module to generate reports for bundle handovers, absentee's statement and roll list. This system encompasses starting from student Data input, subject allocation, exam time table preparation, internal OMR generation, semester Attendance OMR, Exam Room and seat allocation, Exam attendance, OMR, External OMR, Result Generation, Moderation, Revaluation and printing of Mark sheet, Consolidated Mark sheet and many more customised report generation. Every student mark sheet will be created and printed separately. Thus on a whole it serves as a complete automated software which handles very tedious and complex process easily.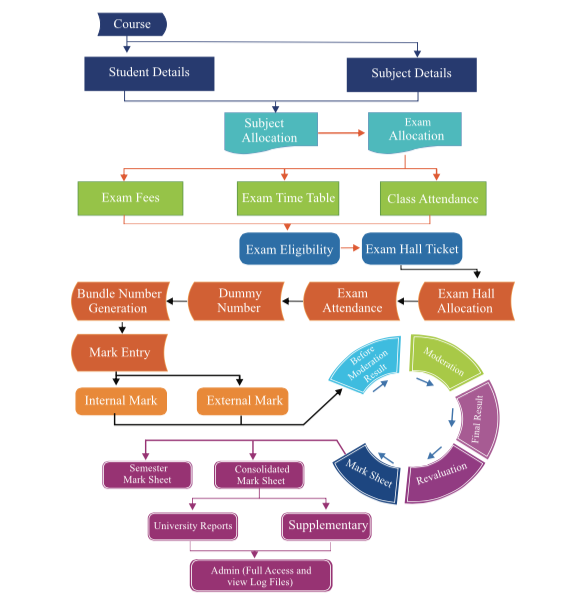 Advantages of Exam cell automation software
Easy to handle and operate
Prevents unauthorised access
User friendly interface
Fast and convenient
Easy result generation
Improved accuracy of student data
Less human effort
Easy to update
Easy message passing
Smart way of communication
Less paper work required